Ship Biological and Clinical Samples
What are Clinical or Biological Samples?

Biological samples, also known as biological materials or biological specimens, include various samples such as blood, urine, tissue, cells, saliva and many others. This are delicate packages that need careful caring during transporting or shipping. Which is why there are specific preparations and recommendations for you to follow depending on the company you choose.
---
We can help you sending clinical and biological samples. Contact us now at info@directoro.com, ChatNow! or complete the form at the bottom of this page.
---
FedEx Clinical sample shipping
At FedEx, there are mesurares for the importance of ensuring the safe shipping of clinical samples such as human or animal materials, including excreta, secreta, blood (including FDA-approved pharmaceuticals that are blood products), tissue and tissue fluids, as well as environmental test samples of soil and water. Our objective is to deliver these special shipments safely to their destinations in the same good condition as we receive them from you.
The illustrations depict samples packaging that is acceptable for shipping clinical samples such as human or animal materials, including excreta, secreta, blood (including FDA-approved pharmaceuticals that are blood products), tissue and tissue fluids, as well as environmental test samples of soil and water. All of the packaging illustrated here are acceptable and may be used in any combination as long as the four basic requirements for acceptable packaging are met.
GENERAL ACCEPTABLE PACKAGING
Proper packaging of clinical samples and environmental
test samples includes four basic requirements:
1. Watertight Primary Receptacles
2. Watertight Secondary Receptacles
3. Absorbent Material
4. Sturdy Outer
MARKINGS: Patient specimens for which there is minimal likelihood that pathogens are present are marked by the shipper "Exempt human specimen" or "Exempt animal specimen" as appropriate to comply with current IATA regulations.
Clinical Packaging
FedEx provides a plastic FedEx Clinical Pak for clinical samples, Biological Substance Category B (UN3373) and environmental test samples with outer packaging sizes under 18cm x 10cm x 5cm (7" x 4" x 2"). The small clinical pak (inventory No. 150948) measures 31cm x 24cm (12 1/4" x 9 1/2") and is suitable for shipping single and smaller-sized test specimens. The large clinical pak (inventory No. 135629) measures 41cm x 33cm (16" x 12 7/8") and is more appropriate for multiple and larger specimen shipments. Any individual specimen packages placed in the FedEx Clinical Pak must meet the four basic packaging requirements.
Non-infectious Clinical Samples
While noninfectious samples of dried blood are not dangerous goods and are not required to meet
dangerous-goods regulations, they do require special packaging that meets FedEx guidelines. Dried-blood samples on absorbent pads or cards for diagnostic testing must be enclosed in watertight plastic bags and shipped in a sturdy outer container or commercial envelope. Samples on glass or plastic slides must be adequately cushioned and may be shipped inside a sturdy outer container or flexible-envelope packaging. Use of the FedEx Clinical Pak is optional.
UPS clinical sample shipping
UPS Laboratory Paks and UPS Laboratory Boxes are part of a vast portfolio of UPS healthcare logistics solutions designed to help your specimen shipments arrive at the right location, at the right time, and in the right condition.

• For overnight shipments, UPS Laboratory Paks and Laboratory Boxes help to provide extra layers of protection.
• The one-time use packages are durable and designed to be highly visible.
• This packaging is specifically designed as overwraps for triple-packed Biological Substance, Category B (UN3373) and Exempt Human and Animal Substances.
• This high-visibility, durable packaging helps protect specimens in transit.
How to Ship
Drop-off
Shipments of both Exempt Human or Animal Specimens, as well as UN3373 - Category B are both accepted at: The UPS Store, UPS Customer Counters and UPS Drop Box Locations.
Schedule a pick-up
To schedule a pickup, call our U.S. Lab support line at 1-844-4UPS-LAB (1-844-487-7522). Leave at your UPS lab specimen pickup point. For select locations, UPS works with central labs to set up UPS Lab Specimen Pickup Points in hospitals, clinics, and medical offices. With a designated Pickup Point, you can get consistent pickups of your specimen shipments at a convenient location in your office.

DHL clinical sample shipping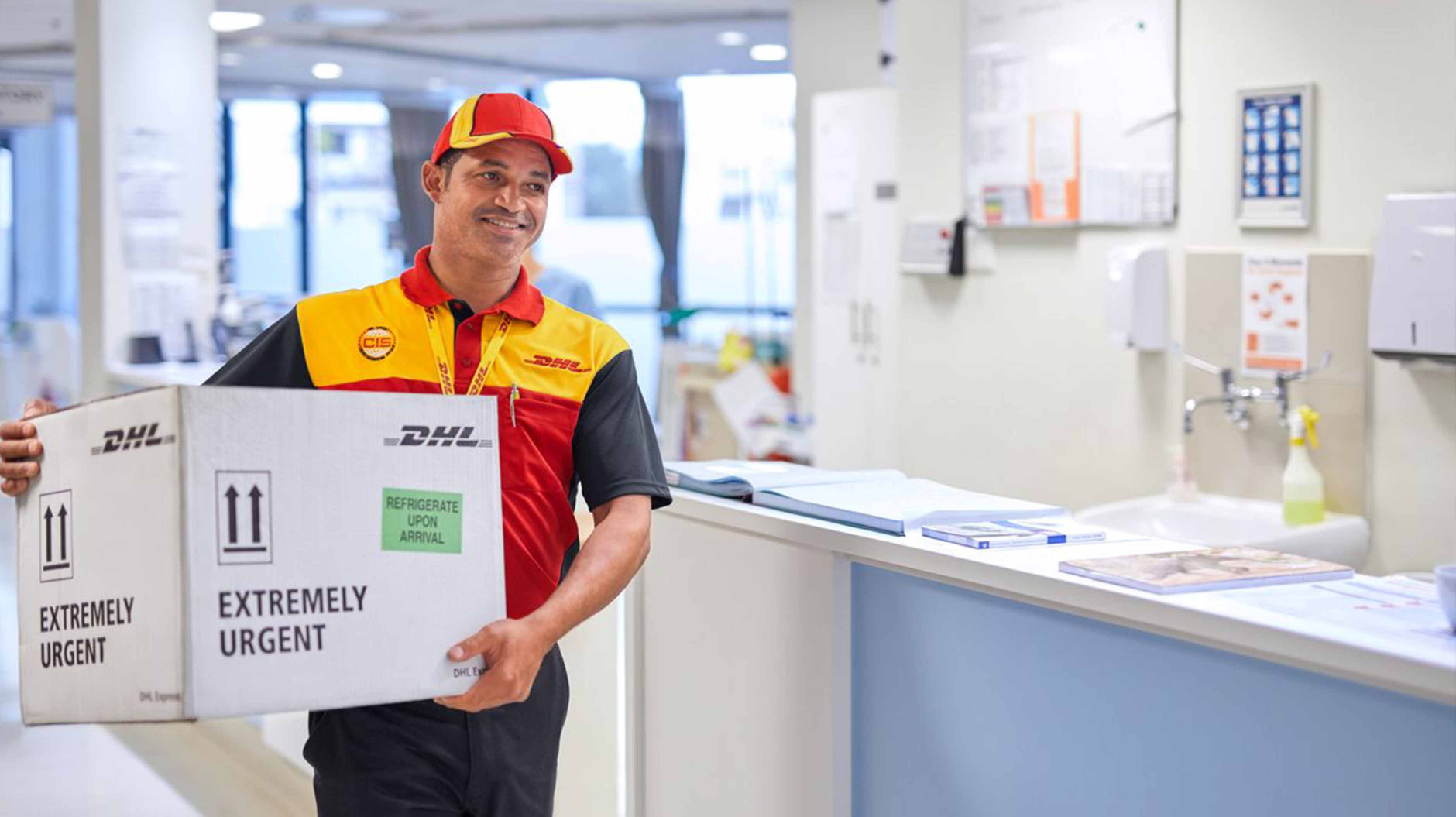 DHL SOLUTION
This solution combines DHL's expertise in life sciences and healthcare logistics with the global DHL network, ensuring ontime and compliant pickup and delivery of biological patient samples. Along with priority handling, active shipment monitoring and 24/7 customer service, it can include white glove services and packaging return/refurbishment services.

SOLVING YOUR BUSINESS CHALLENGES
Meeting short lead times for time-criticalshipments:
Fast, flexible pickup and earliest possible delivery; short-notice booking; priority handling.
Complying with all dangerous goods regulations: DG-compliant transportation; UN 3373 Category B for biological items.
Protecting sensitive biological samples: Specialist single and multi-use packaging for temperature-controlled hazardous/dangerous goods; dry ice and re-icing; liquid nitrogen; various temperature monitoring devices available.
Meeting customs requirements: Fully compliant with local, regional, and IATA regulations; extensive customs expertise.
References and more information: https://www.dhl.com/, https://www.ups.com/, http://www.fedex.com/
---